Along The Ancient Trackways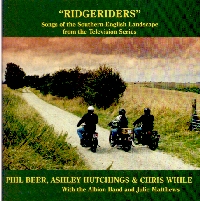 I had seen a number of references to Ridgeriders, scattered across a number of websites, but could find out nothing about the programme..."that'll teach you to look harder"...Oh hush!...anyway, at long last we found out all about the programme and subject matter. What a joy....history and travel........
Ancient history, it's woven into the very fabric, that is Britain. This particular pattern has been looked at, far more, from a mythological stand-point, now, I think it is perhaps time to look at it from it's historical stand-point. The peoples that followed the ancient ridgeways, existed, they lived and breathed, the same way as we do, now. They were not gods or goddesses....they were human.
Let's follow them and see where and how they travelled, visit the places they visited, and lived; for our soundtrack.....? Well, you'll see......
Below, is the subject and episode synopsis of the British TV series, Ridgeriders, that has been playing for the past five years.This particular group of episodes was shown during the past summer, and gives you a very good idea about the programme.If you are a history buff, or a motor cycle buff, Ridgeriders is bound to engage you...Now if we can get the powers that be to show it in North America........

On Meridian on Thursdays at 7.30pm from 7 June 2001


Nick Knowles takes to the saddle once again for a new four-part series of
RIDGERIDERS, which follows the ancient trackways of the South of England.


Furnished with classic motorcycles, Nick and two guest travelling companions explore
thousands of years of history to unlock the secrets of our ancestors. They travel on
some of the oldest roads in the world - the great ridgeways that have criss-crossed
Britain since the Stone Age, many of which they have had special permission to use.
En route, the explorers discover treasures such as Roman, Bronze Age and Iron Age relics. They also meet the people who can explain their significance.
In the first programme of this seventh series, Nick is joined by Penny Mallory from Channel 4's Driven, and Radio 1 DJ Kevin Greening. Together they ride the Eastern Ridgeway of the Isle of Wight.
Their journey begins at Priory Bay, where they see evidence that Stone Age hunters were in the area around 100,000 years ago, before the Island or even Britain existed. From there they visit St Helen's tower, all that remains of the Norman church, before wending their way up onto the Downs and the 19th century Bembridge Fort, built to withstand a French invasion that never happened.
Passing the Bronze Age burial grounds on Culver Down, Nick, Penny and Kevin head for Brading Roman Villa, where museum manager Neville Carr tells them of a gruesome discovery down an old well, and shows them some unusual Roman artefacts.
"I love this Roman stuff, I can't get enough of it," says Penny Mallory. "I would love to be transported back in time and be here when it was first built and see what life was like."
Kevin adds: "I hated history at school. Why couldn't my teachers have been more like Neville........School should be for adults I think. They should make kids work and when they get older they go to school and learn the real stuff."
On Brading Down they meet Vicky and Frank Basford, who love the Island for its history and its archaeology.
"We like to think the Island is a special place......it's part of the Wessex region," says Vicky. "We don't have some of the really rich goodies of the area around Salisbury, but it's the same kind of culture and the same kind of landscape."
The last leg of the RIDGERIDERS journey takes them through a landscape that 10 million years previously would have been covered by a forest of tree ferns, and good dinosaur country.
The dilapidated stately pile of Appuldurcombe House is this week's journey's end. Nick
relates the history of the house, including the scandal of the lord of the manor, his wife and her 27 lovers!

RIDGERIDERS is produced by Peter Hayton and directed by Mike Fuller, a Topical
Television production for Meridian.


Other programmes in the series were as follows:

Programme Two: on Meridian on Thursday 14 June at 7.30pm.
Nick Knowles is joined by comedienne Jasmine Birtles and Home and Away actor Michael Piccarilli on the old royal hunting preserve of Cranborne Chase. Their route
takes them from the village of Chettle to Eastbury House at Tarrant Gunville, and then on the turnpike to an ancient feat of engineering - the Dorset Cursus. Then they ride the prehistoric ridgeway to the 18th century folly Horton Tower, cross the River Allen on the
county bridge at Witchampton before heading straight down a Roman road to finish the day at the Iron Age hill fort of Badbury Rings.

Programme Three: on Meridian on Thursday 21 June at 7.30pm.

In search of the lost royal road from Winchester to Salisbury, Nick Knowles is joined by TV presenter and superbiker Suzi Perry, and daredevil Bear Grylls, the youngest Briton to climb Everest. Their route takes them to the horse monument at Farley Mount, the
remains of the Norman Ashley Castle, the railway station with a Roman platform at
Horsebridge, and to their final destination of the mediaeval Clarendon Palace.

Programme Four: on Meridian on Thursday 28 June at 7.30pm
Guest bikers Claire Ritchie, who manages a top motorcycle racing team, and business guru Geoff Burch, join Nick Knowles to follow the tracks of the mediaeval drovers who herded cattle out of Wales and the West Country through Winchester and to
Portsmouth. The RIDGERIDERS pass through Milbury, Warnford, via Old Winchester Hill Fort to Butser Hill, Hambledon and to Portsmouth.
a note: while this page is primarily about the old ridgeways and pathways of Southern England, other links of geographical and historical interest have been included.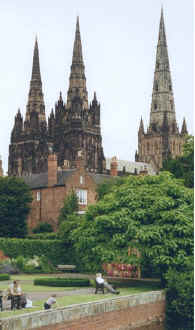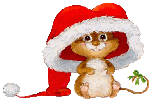 The Ridgeriders Band also includes Julie Matthews and The Albion Band.
The Tracks
Shapes Of The Landscape
The Work Of The Devil
Along The Downs
The Drover's Song
Turnpike Reel
Close Your Eyes
Low Southern Slopes
What Celia Sees
Never Without a Thief Or Twain
Along The Pilgrim's Way
Michael Morey's Hump
Mossing We'll Go
Up On The Ridgeway
Smugglers Road
Betteshanger Treasure
Dorset Cursus