The Music:

Albion Sunrise
Morris Medley
* Mouresque
* London Pride
* So Selfish Runs The Hare
* Maid Of The Mill
* Sheriff's Ride
I Was A Young Man
New St George / La Rotta
Gallant Poacher
Cheshire Rounds / The Old Lancashire Hornpipe
Hangèd I Shall Be
Reaphook And Sickle
Battle Of The Somme
The Players:
Steve Ashley
: guitar
Sue Draheim
: fiddle
Ashley Hutchings
: bass
Simon Nicol
: guitar, vocals
Royston Wood : vocals
Shirley Collins
: vocals, banjo
Roger Swallow
: drums
Linda Thompson
: vocals
Richard Thompson
guitar, vocals
Martin Carthy
: guitar, vocals
Sue Harris : vocals, oboe, dulcimer
John Kirkpatrick
: accordion, vocals, piano
Martin Nicholls, John Iveson, Colin Sheen, Paul Beer : sackbuts on "Gallant Poacher"
Dave Mattacks
: percussion on "Reaphook and Sickle".

The Album:

Battle Of The Field (Island HELP 25) 1976.

This outfit was formed by Ashley Hutchings after he left Steeleye Span. It was initially formed in April 1972 with the line-up including several folkies, but Mattacks was soon recruited from Fairport Convention. They were a popular attraction at colleges, universities and folk festivals and later in the year when the initial line-up split, Richard and Linda Thompson were added and Shirley Collins was also briefly a member. They eventually knocked it on the head, in August 1973, but the album was released retrospectively to satisfy demand from fans. It had been recorded but then shelved, because there was no band to support it. Hutchings later played with Shirley Collins in The Etchingham Steam Band and then with Dave Mattacks in The Albion Dance Band.
The Field : 1846 - 1914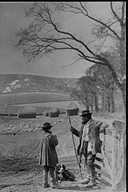 The census of Britain taken in 1851 showed a total population of 20.9 persons, where 10 3/4 million had been counted in 1801 ; in the intervening years, the population had almost doubled and the country had become the largest manufacturer of industrial products in western Europe. Of this population, some 1 3/4 million were engaged in the cultivation of the soil, in the rearing of animals and the care of woods. Those employed on the land were, infact, already a minority of the British people, representing only about one -fifth of the total occupied persons, or one-quarter of the males over twenty years of age. Thus for every adult male engaged in agriculture or forestry, there were three others working in trade, domestic service, or in the professions....The Battle of the Field was already joined.......
Battle of the Somme :1st July 1916