Inquiring Minds Need To Know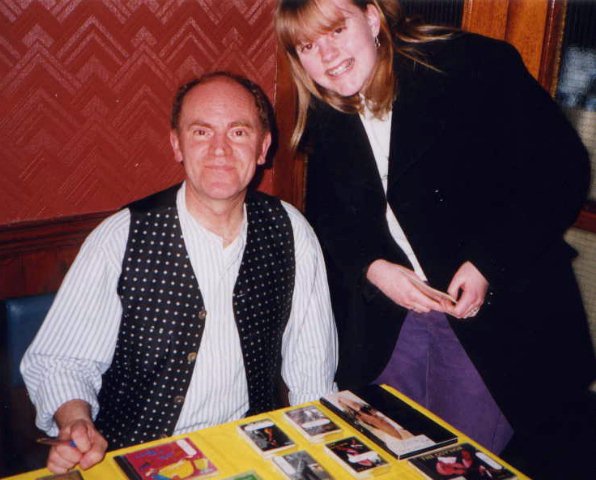 The Gouv'nor and A Friend
.........And know you shall,and as soon as we can gather it, all the news you need to know, on the doings of Mr Hutchings and his associates. Listed Below, as you can see are the dates for forthcoming Albion Christmas Tour of The Albion Band. An Albion Christmas is just wonderful and magical. On the Albion Tales page, on this site, we'll be featuring more details about the Christmas events, just as we did last year, so keep your eyes open, and remember, if you haven't heard the Albion Band recently, you haven't heard the Albion Band!....Take care...
Sam and leila
An Albion Christmas 2002
Ashley Hutchings with Simon Nicol, Simon Care & Kellie While
| | |
| --- | --- |
| Dec. | |
| Sat 7th | Central Studio, Basingstoke 01256 418318 |
| Sun. 8th | Isle of Wight |
| Mon. 9th | Nettlebed Village Club 01628 636620 |
| Thurs. 12th | The Swan, Leek 01538 373471 |
| Fri. 13th | Harberton Parish Hall, Totnes 01803 867650 |
| Sun. 15th | Opera House, Buxton 01298 72190 (supported by John Kirkpatrick) |
| Tues. 17th | Huntingdon Hall, Worcester 01905 611427 |
| Wed. 18th | Regal Centre, Worksop 01909 474458 |
| Thurs. 19th | Phoenix Arts, Leicester 0116 255 4854 |
| Fri. 20th | The Met, Bury 0161 761 7107 |
| Sat. 21st | Phoenix Arts Centre, Exeter 01392 667080 |
And This As Well!
Biography Press Launch
The first part of Ashleys biography, The Guvnor & the Rise of Folk Rock written by Brian Hinton and Geoff Wall, received a successful press launch at the publishers Helter Skelter in the last week of July. The Albion Band played acoustically and there was a chance for Ashley to meet up with friends, old and new.
The Biography was officially released at Cropredy Festival in August. The book details Ashleys life and the early years of Fairport, Steeleye Span and the Albion Band up to 1973. Subsequent volumes will deal with the later years. Published by Helter Skelter, there is a hardback version at £20.00 and a paperback version at £14.99. Both versions contain a wealth of photographs and personal recollections from many of the influential personalities on the folk and folk / rock scene. Ashley was involved with signing sessions and the sales were astounding!
Now you really can't say fairer than that, can you? The Biography is now available in Canada, run right out and buy it, because the last time we checked, a number of book shops had already sold out, Ashley being thepopular fellow he is, and all that......
Some Sad News To Relate......
ALBIONS LAST TOUR
Following the Autumn tour the current line-up of The Albion Band will be breaking up. This is as a result of the shrinking number of gigs available to the band. This has made it difficult for members to commit themselves full time to the group. Consequently, there are no current plans to continue with the band.
And Definitely On The Brighter Side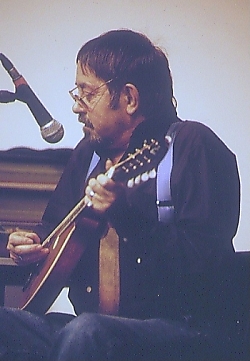 Swarb
Legendary fiddler Dave Swarbrick will take part in a special celebration of his life and work at Chatham's Brook Theatre on 14th November. Dave will be interviewed about his illustrious career, a variety of fiddle players will tell how Swarb influenced them and an array of top musicians will be playing. Confirmed for 'An Audience with Dave Swarbrick' so far are Peter Knight (Steeleye Span), Joe Broughton (Albion Band), Tom Leary, Ian Cutler (Hot Rats), Kevin Dempsey, Alistair Hulett, Roy Bailey and Beryl Marriott. Tickets are £10.00 and can be obtained from the Brook Theatre Box Office on 01634 338338. Swarbrick has recently signed a deal to record a CD of his own compositions, to be called Swarbrick plays Swarbrick, with classical music label Naxos. Having decided that Swarb is uncategorisable as English, Scottish, Irish, Welsh, traditional or anything else, Naxos has decided to simply call his style 'Swarbfiddle'. The CD will be completed by April 2003 and will feature contributions from many fine musicians.